State-by-state reports from across the core pheasant range
June is go-time for ring-necked pheasants.

Winter is way, way back in the rear-view mirror, and despite the season's brutality across the northern parts of the pheasant range, pheasants were not obliterated from the landscape. Such is the toughness of our favorite gamebird.

And so nesting has begun. As nesting, hatching and raising broods goes, so go fall hunting prospects. Here is our state-by-state report from the core pheasant states. We'll report again on hunting prospects, as always, at the end of summer, but wanted to give an early peak at what's happening.

The news is generally good. But one thing to keep an eye on will be summer moisture. While generally dry springtime conditions can be favorable to good incubating and brood rearing, continued and prolonged dry conditions can limit insect life, which is essential to feed and grow chicks. It can also affect habitat.

Here's where we're at.
SOUTH DAKOTA
Coordinated By Matt Gottlob, South Dakota State Coordinator

Editor's Note: Due to its extra in-depth nature, we placed the update for the number one pheasant state last for your perusal.

Winter Wrap-Up
Aberdeen - Winter was pretty tough up this way this year. Reports of bird fatalities in large numbers on certain tracts of land where people had walked late season hunting or shed hunting this spring.

Bon Homme, Charles Mix, Hutchinson, Yankton Counties - The winter was cold with heavy snow falls resulting in higher amounts of pheasant mortality. However, survival appears to anecdotally higher than expected with surviving pockets of adult birds being observed frequently.

Brule, Buffalo, Aurora and into Eastern Lyman Counties - The area had a long tough winter, starting with heavy snowfall and cold temperatures earlier than usual and continuing well into spring months. Luckily the pheasant population in the area was up from previous years to begin with and they seemed to find shelter belts and cattail sloughs to bring them through the winter much better than expected. Didn't get the reports of dead pheasants in shelter belts around here as from other parts of the state and have seen quite a few roosters and hens this spring.

Brookings - The winter in the Brookings area was much like other portions of the state, with a lot of snow, wind, and ice. This combination created a challenge for all wildlife. Snow drifts filled in the small cattail sloughs, narrow tree belts and food plots, but the larger cattail sloughs and other larger blocks of winter cover provided thermal cover that was paramount for pheasant survival in a winter like we had. We had birds get through the winter.

Kennebec - Winter was tough in the South-Central part of the state with multiple day-long blizzards that resulted in around 60 inches of total snowfall. Not seeing as many pheasants this spring as in the fall, but they're still out there where the habitat was able to get them through the winter.

Watertown - In the Northeast the winter was pretty tough a couple of ice storms and the abundance of snow we had definitely had an effect on the birds. However with all the winter cover primarily the big cattail sloughs provided good cover and there was enough wind with the storms it seemed to keep a few spots in fields open for birds to forage.

Woonsocket - Many landowners in the area assumed the winter was hard on pheasants but they made it through fairly well. Actually did not have a significant amount of snow; the drifting made it seem worse than it was. Most importantly, hen survival seemed very high.

Habitat Update
Aberdeen - Up to this point in the growing season the habitat is in pretty good shape, carrying lots of moisture over from winter. Although it has been very hot and dry the last 2 weeks and if that continues, will enter into a drought pretty quickly.

Bon Homme, Charles Mix, Hutchinson, Yankton Counties - With conditions being as dry as they are, new CRP plantings aren't growing well enough to provide habitat in adequate amounts. This being the case, the birds will need to rely on habitat zones that were left undisturbed the last year.

Brule, Buffalo, Aurora and into Eastern Lyman Counties - The lack of a lot of spring rain has the nesting habitat off to a slower start than we would like but grass is coming, and hens are initiating nesting.

Brookings - Habitat conditions are off to a great start this spring. There are two sides to the winter we had. Because we had such dry conditions over the past 2 years, we needed the moisture. With the snowcover we had, habitat conditions are off to a good start, it is pretty dry in this area. Have noticed good insect and pollinator numbers, which will be crucial for chicks when broods begin hatching.

Kennebec - Habitat started out the spring growing well with some timely rains, but the rains have slowed now, and the grass seems to be stunted. But many winter wheat fields look spectacular and are growing quite well. We're lucky in this area to have many acres of winter wheat so are hopeful that the birds will find those fields to nest in for the time being. The southern reaches of my coverage area were hit was emergency haying of CRP last August and there wasn't much regrowth throughout the rest of the fall.

Woonsocket - Most of the habitat that is in CRP or like programs look to be ok even though the drought is taking its toll on other grasslands like pasture and hay ground. The safe nesting areas of CRP should still produce quality habitat as the native grasses and forbs can handle the stress of drought better than introduced species that make up most pasture and hay ground in this area.

Nesting Conditions
Aberdeen - Nesting conditions are good, but we are at the point where we need to start getting some moisture. There were bugs flying around everywhere right away but have noticed a sharp decline in those since it started drying up.

Bon Homme, Charles Mix, Hutchinson, Yankton Counties - With the dry conditions, alfalfa (which can serve as a nesting source) is getting cut early because it's drying out early. This coupled with the limited new growth may make suitable nesting conditions sparse this year.

Brookings - Have yet to see any broods or hear of many broods on the ground so far, but nesting conditions are favorable for pheasants. Conditions have been pretty dry but grasslands in this area are really looking good. Everything seems to be just a little behind this year, so expect to really start seeing broods in the next week or two. There should be some good insect forage for chicks when they hit the ground.

Kennebec - Without rain, still faring well in terms of nesting conditions. Winter wheat is growing well, and Lyman County is one of the top producers of winter wheat in the state so we have that to fall back on even though our grasses may not be coming through as well.

Watertown - Spring conditions are looking really good now, but we do need to catch a nice rain sometime soon.

Observations
Aberdeen - Have not seen a brood yet in my area but am hearing reports of people seeing them. Overall, had a lot of birds up here this past year and there were plenty of birds that made it through the winter. Seeing birds everywhere (good or bad) over the winter and spring, still seeing them out and about now. Spring conditions had been favorable up until the last couple weeks. If we can catch some moisture and lose some of the heat, should be sitting good going into fall 2023.

Bon Homme, Charles Mix, Hutchinson, Yankton Counties - Dry weather overall isn't necessarily a bad thing as long as there is nesting habitat present and dew/moisture from arthropods for broods to survive since pheasants don't need a lot of moisture (generally speaking). In contrast, a cold wet spring can often lead to nest failure and low brood survival due to the inability to properly thermoregulate at a young age. With this in mind, there is hope for demographic maintenance if not a population increase for this upcoming year.

Brule, Buffalo, Aurora and into Eastern Lyman Counties - Haven't seen any broods yet. Have bumped some hens off nests in the field. Temps in the area are high and could use some rain to keep the grasses coming.

Brookings - Have not seen any broods yet, but weather conditions have been good for nesting so far. Have had a few pop-up storms with a little bit of hail but nothing major.

Kennebec - Have not observed any early hatch broods yet, but have seen some nests while out in the field. Haven't gotten much rain at all this spring, but on the plus side that can also mean that nests are not drowning out. Last spring, the dryness helped a lot of broods hatch and brought on a great hunting season filling the sky with birds. Hopefully we can see that again this fall!

Woonsocket
The adult winter survival rate has definitely helped numbers given the drought's impact on brood success, but worried as the drought's severity has increased over the last few weeks. Was worried last year though, and it turned out to be a successful year. The cold did linger this year but not into prime nesting season.
IOWA
From Todd Bogenschutz, Upland Research Biologist with Iowa DNR, as told to Josh Divan, Iowa State Coordinator for PF
Winter Wrap-Up
Winter snowfall was 30 to 50 percent above normal in the northwestern and north-central regions, but about normal to below normal in other regions. Over-winter survival of hens should have been normal to above normal in all regions, except NW and NC.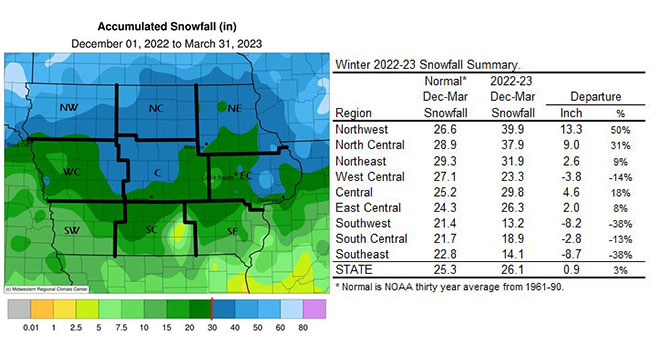 Habitat Update
Iowa has lost CRP like many other states, but overall our acres should be similar to last year. The cover looks great thus far this spring.

Regional Notes
Regional notes are always of high interest. Hunting was exceptional in the northwestern and north-central regions last fall, so hopefully this past winter didn't knock us down in those regions; nesting success will be the key. Bird numbers should improve in all other regions if we have favorable weather during nesting. Best hunting this coming fall will likely be across the north, and on the center of the state.

Nesting Conditions
So far so good for nesting. It has been a cool spring but on the dry side statewide. Need to watch that.

Observations
I had my first broods reported May 24 and 25 in southern Iowa. Indications are of a good start to the nesting season. But am a bit concerned that more and more of Iowa is slipping into drought already, with almost the entire state "abnormally dry" at a minimum. If that continues and conditions stay dry, it could open up virtually all the state to emergency haying.

Read the full Pheasants Forever post for MN, ND, NE, and Montana